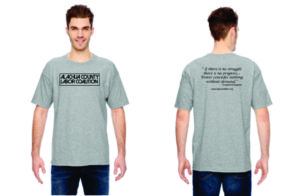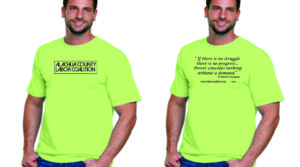 Our new Labor Coalition t-shirts are union-made and locally printed.  They come in small, medium, large, and extra-large and are available in Dark Ash Grey or Lime Green.  They have our logo on the front and a Frederick Douglass quote on the back: "If there is no struggle there is no progress…Power concedes nothing without a demand."
They are available on a sliding scale $16-20 and we are also offering them as a gift to anyone who joins our Committee of 100.  Please contact us if you'd like to get a shirt.
P.s. We have no idea who those two t-shirt models are.  Send us a pic of you or a friend wearing one of our shirts and we'll gladly use that instead!