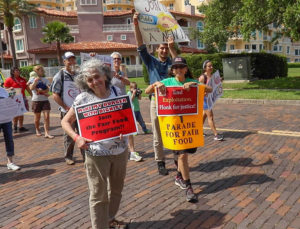 In 2014, we re-organized as the Alachua County Labor Coalition to expand our access to people and organizations committed to the rights of working people.  Since then, we have seen an inspiring boost in new members and have added 10 member organizations to our coalition.
This has led to an infusion of new people, goals, and ideas into our work and into our leadership, with great benefit to the organization and to our campaigns.  As we plan future actions, we will need more involvement in our Board and in our Just Health Care and Living Wage committees.
In February 2016, nominations will be accepted for officers and representatives to the Board.  This is a great opportunity to shape policy and strategy for the ACLC, and we encourage input and nominations from all members.
Positions include: Co-Chair (two positions), Secretary, Treasurer, & Union Liaison & Just Health Care Liaison
In addition, any organizational member of the ACLC is entitled to nominate someone to serve on our Board.  For instance, Shawna Doran is the Board representative for the Alachua County Green Party.  If you are involved in an organization that is, or would like to be a member of the ACLC and you would like to help strengthen our connection and shared work, please contact us.
If you have questions or want to make a nomination (including self-nomination), please email us.