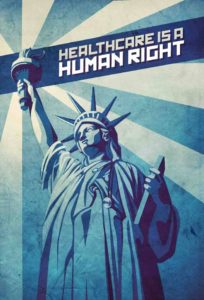 Please join the Alachua County Labor Coalition Tuesday, July 26th at 6:30 pm to listen to and ask questions of a panel of state and federal candidates running for elected office about their views of Health Care Issues, including single payer health care and Medicaid expansion in Florida.
Every year in July, the Alachua County Labor Coalition (ACLC) joins organizations around the country to celebrate the birthday of Medicare and Medicaid. Medicare is the culmination of a decades-long debate about universal health coverage for all, and is the largest single program to improve national access to health coverage and services. Before its passage in 1965, 44% of those age 65 and older were uninsured.
The ACLC has advocated for a single-payer health care system for over 20 years, along with advocating for other working class issues such as a Living Wage for all. The ACLC has also been working with a coalition of over a hundred groups across Florida to expand Medicaid in Florida.
We have confirmations of attendance from Rod Smith, candidate for State Senate district 8; Marihelen Wheeler, candidate for FL House 21; Tom Wells, candidate Congressional District 3; and a representative from Alan Grayson's campaign, U.S. Senate candidate. Other invited candidates include Ken McGurn, Keith Perry, and Congressman Ted Yoho.
Chad Hood, a doctor at the Gainesville VA and Health Care Liaison for the ACLC will moderate. Scott Darius, Advocacy Director of Florida Chain, a state-wide organization that promotes expanding Medicaid coverage in Florida, will also be at the forum to field questions.
Food and beverages will be served at 6pm at the Mennonite Church at 1236 NW 18th Ave. Panel follows at 6:30 PM, ending with a birthday cake for Medicare and Medicaid. For more information call 352-375-2832. Free and open to the public–please be sure to invite your friends!