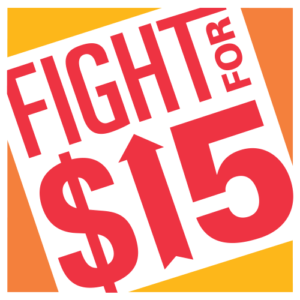 Over 20 Florida Cities Join National Day of Action to Fight for $15 and Union Rights
Florida's Workers and Voters Demand Action from Presidential Candidates, State and Local Lawmakers Vowing to Take Fight for $15 to the Ballot Box in 2016
On Tuesday November 10, hundreds of Floridians will come together to demand action from state legislators and presidential candidates to raise the minimum wage to $15 an hour. Rallies and marches will be held in over 20 cities across Florida, as part of a National Day of Action with events in over 500 cities throughout the country. Floridians will rally in Fort Lauderdale, Tampa, Miami, Clearwater, West Palm Beach, Orlando, Gainesville, Jacksonville, Tallahassee and Fort Myers, among other cities.
WHO: Fast Food Workers, Students, Alachua Labor Coalition, Alachua County Commissioner Ken Cornell, Gainesville Mayoral Candidate Lauren Poe
WHAT: National Day of Action for Living Wages and Union Rights
WHEN: Tuesday November 10th starting @ 4:00pm
WHERE: 13th Street & University Avenue in Gainesville, FL
As Florida's legislative session approaches and attention on the presidential primaries grows, Florida's working families and voters are making a clear demand to state legislators and presidential candidates: hardworking Floridians need and deserve to earn at least $15 an hour and have the right to form a union, in order to help thousands of families out of poverty and restore our country's middle class. Recent polls show that 65% of Florida voters support raising the minimum wage.
Florida voters are calling on lawmakers to take action at the state level by co-sponsoring the $15 minimum wage legislation, SB6 and HB109 and at the local level they are demanding legislators pass living wage ordinances.
Fight for 15 Florida and community members will stand together with underpaid workers who serve fast food, educate and care for children, care for seniors and people living with disabilities, help airport passengers, teach students in higher education and many others, to make sure the voices of Florida's workers and voters are heard loud and clear.
"i've been working here too long to be paid so little. I'm fighting for 15 for my family and my future." says Eric Campbell from Wendy's in Gainesville
A recent United Way report concluded that Floridians need $15 an hour just to make ends meet as 45 percent – or 3.2 million – of all households in this state can't afford basic housing, child care, food, health care and transportation. The last time the minimum wage was increased in Florida was in January when it went up a pathetic 12 cents, so an increase is clearly long overdue.
A recent poll of workers paid less than $15/hr commissioned by the National Employment Law Project showed that 69% of unregistered voters would register to vote if there was a candidate who supported $15/hr and a union; and that 65% of registered voters paid less than $15/hr would be more likely to vote if there was a candidate who supported $15/hr and a union. Seventy-six percent of the underpaid workers surveyed said they would pledge to vote for candidates who support $15 and a union. That's 48 million potential voters who could turn out if there were candidates who backed higher pay and union rights.
Over the next year, the Fight for $15 plans to engage this untapped voter group around issues of higher pay, union rights, improved child care and home care, racial justice and immigration reform— issues identified by underpaid workers as key factors in whether they will go to the polls for a candidate. Forty-two percent of workers in America are paid less than $15, including 48% of women, 54% of African Americans, and 60% of Latinos.
The expansion of the Fight for $15 into the 2016 political arena marks the latest sign of the mounting political power of underpaid workers who, just three years ago launched their movement for higher pay and union rights in New York City. The demand for $15/hr is already helping to define the 2016 presidential race. All of the major Democratic presidential candidates support the Fight for $15, and the Democratic National Committee voted in August to make $15/hr an official part of its 2016 platform.