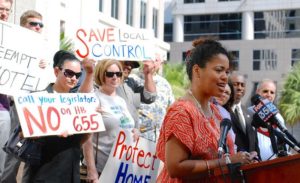 On Tuesday, April 26th the ACLC will host a talk by Central Florida Jobs with Justice leader Denise Diaz.  In addition to serving as Executive Director of the Central FL chapter, Ms. Diaz sits on the Board of National Jobs with Justice Education Fund and is also a trainer for the organization's Leadership Training.
Jobs with Justice works at the national and local levels to win improvements in people's lives and shape the public discourse on workers' rights and the economy.  They believe that all workers should have collective bargaining rights, employment security and a decent standard of living within an economy that works for everyone.  They seek real change for workers by combining innovative communications strategies and solid research and policy advocacy with grassroots action and mobilization.  The Central Florida coalition has over 27 member organizations made up of unions, community organizations, student and faith groups committed to building power for worker rights.  Denise has served as their Executive Director for over nine years, and in that time has worked with local leaders on issues such as transit equity, paid sick days, and right to organize fights.
Originally from Puerto Rico, Denise's parents raised her and her brother on the northwest side of Chicago. Her parents worked hard in the airline catering industry and as union members to provide a better life for their children. Denise Diaz received her BA in Political Science from the University of Illinois at Chicago. Her activism began in college mobilizing new voters and later community organizing on the South Side of Chicago.  She later became a tenant rights and organizer in immigrant communities outside of D.C.  In 2007, Denise moved to the Sunshine state to raise her children and continue community organizing on worker rights issues. From informational picketing in front of major employers to community meetings on racial profiling, you'll find Denise and her family.
We look forward to hearing more about Denise's work and our own potential collaboration with Central Florida Jobs with Justice.  The meeting will be held at the Emmanuel Mennonite Church at 1236 NW 18th Ave.  Pizza and drinks will be available starting at 6pm and the meeting will get underway at 6:30.