Thanks to our friend Jack for his support.  You can sign up as a member, a sustainer, or to be a part of our "Committee of 100" here.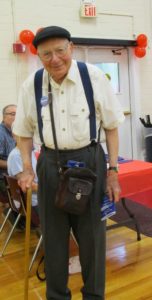 September 2015
Brothers and Sisters,
As a veteran of a lifetime engaged in social justice struggle, I am writing to reacquaint you with the Alachua County Labor Coalition (ACLC) and urge you to support our efforts. The ACLC is a group of individuals, unions, and worker-friendly organizations committed to the rights of working people, their families, and communities. We rely completely on the generous support of local unions, nonprofits, faith communities, and individuals to support our work—we do not receive any government or corporate foundation grants. Membership in the Coalition starts at only $25/year, but we strongly encourage anyone who can afford it to join our "Committee of 100" and make a monthly pledge of $10-20.
In recent months, the ACLC has had some significant wins and we have expanded our base:
We were instrumental in passing a local ordinance to defend workers who are victims of wage theft. This ordinance helped recover >$17,000 in stolen wages for local workers in its first full year of implementation.

We are part of a nationwide movement fighting for a living wage for this country's lowest paid workers. We scored our first victory last month when the County Commission and the University of Florida raised their starting wage to $12/hour. We are continuing to push for higher wages for County workers and County contractors, and are asking all of Alachua County's ten largest employers to follow suit. Together let's make 2016 the Year of the Living Wage!

We are part of a statewide coalition pressing the FL Legislature to accept federal Medicaid funds, a move they've foolishly resisted for purely ideological reasons.

We've organized "boots on the ground" for local workers, including bus-drivers, restaurant and grocery workers, teachers, postal workers, Verizon employees, farm workers, and more. When working folks call on us for support, we answer back "We'll be there!"

We recognize gains made under the Affordable Care Act, but we have far to go to assure health care for all. We recently celebrated Medicare's 50

th

birthday and continue to advocate for the ultimate goal of expanded and improved Medicare-for-All, everybody in, nobody out!
We're putting out a call to all Coalition supporters: "Each One, Reach One!" Will you join or renew your membership in the ACLC, an organization dedicated to healthcare for all and fighting for working people's rights? Will you spend some time with us out talking to folks in our community? Will you help us win our campaigns for a Living Wage and Medicaid expansion? Will you help recruit your friends and co-worker to join? The ACLC is poised to become a real force for change in this community, and to expand upon the impressive work that the organization has already accomplished in its nearly 20-year history. But we need funding, and more importantly, people power, to win. That's where you come in. Will you stand with us this year?
In solidarity,
Lee J. "Jack" Price, Member, Alachua County Labor Coalition